Hello All!
I am so excited to blog today! I have so many posts that I want to write at the moment. I just need to find the minutes to sit down and do them. Today I was tagged in the 'This and That'post by , and I am thrilled as this will be my first tag, yay!
My brain is full of bits and bobs that I want to write about, so after this post please do stay tuned
for the following posts coming up in the near future:
-Holiday Paris & Barcelona
-Birthday Treats
-OOTD
-Monthly Favourites
Anyway, back to the tag!
I have seen this tag presented in different ways, some short, some long, but I thought I would do it in the way that I would most enjoy and I hope you will enjoy it too.
1. Blush or Bronzer?
I have to say I love both very much, but if I were in a rush and had to choose one it would definately be blush. I'm sure I read somewhere, or maybe my Grandma said, that you should never go out without a little flush on the cheeks.
My favourite blush of all time, that I can use with any eye makeup has to be the Avon Blusher in Soft Plum.
2. Lipgloss or Lipstick?
This one is easy for me as I have about 25 lipsticks and 3 lipglosses. I love the vibrances you can get with a lipsitck and although I do like a little gloss and shine now and then, I do prefer a matte lipstick or one with a little sprinkle of shimmer in.
It is very hard to choose my favourite lipstick as I have so many and seem to change my most worn all of the time. I would say the lipstick I wear the most is probably my Mac Viva Glam V lipstick. This lippie is a lovely subtle colour and feels lovely on the lips.
3. Chapstick or Lip Butter?
It is no secret that my ultimate lip healer is my Elizabeth Arden 8 hour stick. I couldn't be without it, especially in these cold Winter months.
4. Matt or Sparkle eyeshadow?
Hmmm, now my favourite type of eyeshadow is a shimmer, so actually I guess that falls right between my two options. I do enjoy using some of my matte eyeshadows like Urban Decay Tease and Mac's Cork but I cannot resist a little shimmer in my life and on most days I turn to my Urban Decay Naked 2 Pallette to indulge in the huge variety of natural and smokey shimmer tones.
5. Gel, Liquid, Cream or Pencil Eyeliner?
I do love a dramatic eye, and for that, gel eyeliner is my go to. As much as I do love my gel eye liners I use a pencil eyeliner every day to colour my waterline and my favourite and most used is my Bourjois Khol and Contour eyeliner pencil in Brown.
6. Foundation or Concealer?
I adore foundation! Yes I need my under eye concealer but I love how flawless a good foundation can make you look, and it is a fantastic base for everything else that goes on top. I do use different foundations for day/night etc but the foundation that I am using the most at the moment is the Rimmel Wake Me Up Foundation. It is the perfect colour and tone for my skin (soft beige) and gives me a great medium coverage.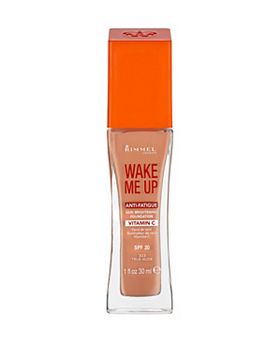 7. Liquid or Powder Foundation?
I guess I have already answered this in the choice made above. I do have a great powder foundation by Bare Minerals, although I most definately prefer liquid and use it far more often.
8. Neutral or Statement Eye
I love to experiment with make and a dramatic eye is so much fun to create, especially if I get the time to put on some lovely eyelashes. This is however quite a rare opportunity for me as my life is quite busy during the day so I make the most of creating a variety of neutral looks everyday. I pick… neutral…but not boring!
9. Pressed or Loose Shadows?
I only own one loose eyeshadow which pretty much answers this one for me. I am far too messy a person to own many loose ones…oops!
My favourite pressed, neutral combo is Mac's Naked Lunch with Satin Taupe.

10. Waterproof or Non Waterproof?
Waterproof products are fantastic for Summer Holidays when you want to dip in the pool, or for rainy days and crazy nights. I much prefer to use non waterproof though as I can't cope with the length of time it takes to remove it before I go to bed. My favourite mascara is my Dior New Look Mascara.It is not a mascara that I use every day as I use it on special occasions due to it's price, but I absolutely love the length it gives my lashes and it is so easy to apply, leaving no clumps.
11. Brushes, Sponges or Fingers?
A year ago I would have chosen fingers for this one. Since then I have discovered my Samantha Chapman Real Techniques Brushes.They are amazing! My favourite is the buffing brush which I use to apply liquid foundation to give a flawless look.
12. Powder, Cream or Liquid Highlighter?
This is a difficult one for me as I own one of each and do not use any of them everyday. I think if I could only take one with me though it would be Sunbeam by Benefit.
I had so much fun writing this post! I could have gone on and on forever but sadly it is finished now.
Do not fear, I will be back very soon with a new post.
I would like to TAG Hold This,Wear That to do a This ir That post and anyone else that fancies it!
So many post ideas, so little time!
Until next time, Bye Bye 🙂